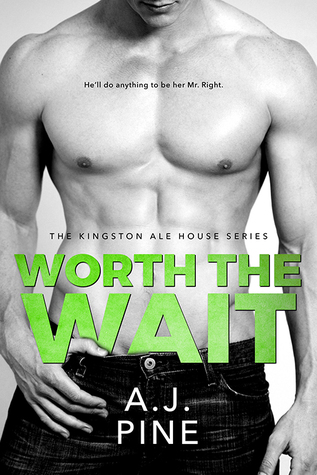 I like to think of myself as a man of pleasure…
I enjoy a good pint of ale, being in the arms of a beautiful woman, and living by my own rules. The only thing I try to avoid? Commitment. And I've got a three-year success rate to prove it.
I wasn't planning on Grace—the beautiful, funny, totally off-limits massage therapist who keeps popping up in my life. She's on a six-month mission to rid her life of toxins. No alcohol. No red meat. And, yeah, no men. I'm talking full-on man cleanse.
I know I should walk away, but I can't…and the only way to keep her in my life is to live by her rules. I'll need to prove to a woman who's lost all trust in men that I'm worthy of her love. And do it all without so much as a single kiss.
The only problem? If I win, I'll lose the one thing I swore I'd never give up. My heart.
Each book in the Kingston Ale House series is a standalone, full-length story that can be enjoyed out of order.
Series Order:
This is it. the final book of Kingston Ale House. It was really amazing to follow the evolution of all the characters that are presented to us in each book.
I guess that Jeremy's story was one of the mos expected by the readers, not only because in all the other books Jeremy was, indeed, a very important character among the others, but also because we all wanted to see how would he react to the woman that really would get him on his knees.
As usual, the woman that was meant for him, is a woman full of strenght, with a big broken heart and a past full of lies, treasons and disappointments. Because of that past, Grace goes on a cleanse of men. She was deceived by a man who supposedly loved her, when in fact all he wanted was the money she had saved in order to pay his gambling debts. No wonder that she got sick of men and their smooth talk.
What she was not expecting was Jeremy. Meeting him could only meant one thing: Troubles. How was she supposed to be able to bring her six-month cleanse to an end if he kept popping up ahead in front of her, tempting her to sin and making her fall in love with him? At some point, she gave up fighting her feelings and let him knock down the walls she had erected around her. However, he would have to wait for her for another three months, until his spiritual cleansing. What means: No sex at all. Would he wait for her? Would he be that guy who could be the one for her? That's what she was so afraid. To give her heart away once again and get hurt all over.
Jeremy by his turn, had also his issues with women. He was, once, very in love with a woman who didn't give him the same love. To her, he was just a cute guy, that wasn't as ambitious as her. He got his heart broken and swore that never again would he get to a point to commit with someone again. Until he meet Grace. The woman that got into his mind and knocked him over, big time!
Both together will learn to wait and to trust again in love and on true relationships. They will learn how to give their hearts to love without loosing their personality and their power as an individual smart and strong person.
Really loved this book and the pleasure that this serie gave to me was enormous. At each one I felt that empathy with all characters and all of them together made one hell of a Kingston Ale House. Gonna really miss them all.